Contest participants
Students and schools are invited to participate in the EST contest. Here we give an overview of the registered teams, broken down by countries. The students' names and school names are also provided, as a way to increase the visibility of the teams working on infographics for the upcoming EST Solarpedia.
Good luck everyone!!!!
Last updated: 12 November 2021
EST contest in numbers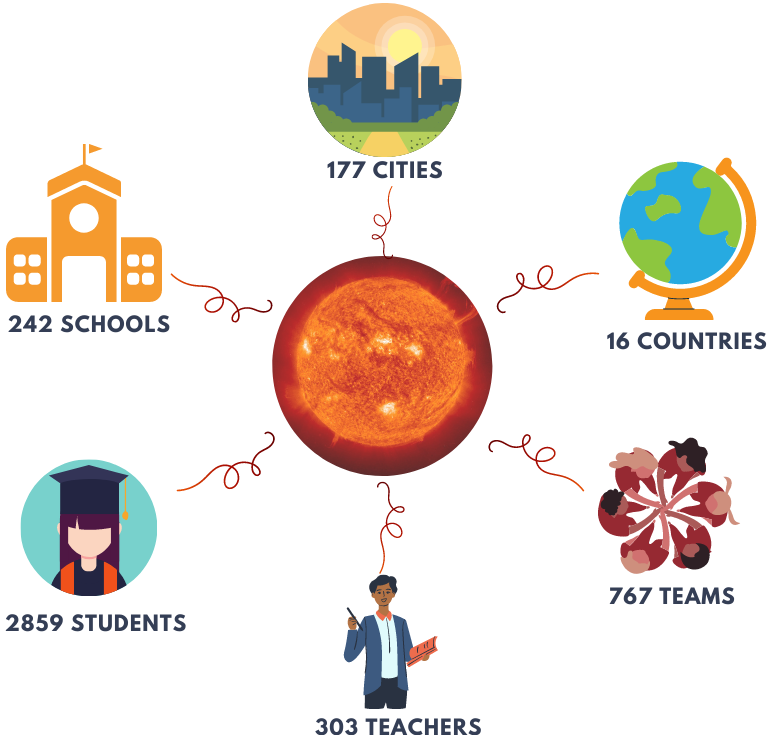 This table is meant for mobile devices and shows only the number of schools and students participating in the contest. The full list with the names of schools, teams, and students is available on tablets and desktop computers.
| | | |
| --- | --- | --- |
| Country | Schools | Students |
| AUSTRIA | 3 | 46 |
| BELGIUM |  1 |  18 |
| CZECH REPUBLIC | 4 | 23 |
| FRANCE | 2 | 26 |
| GERMANY | 7 | 60 |
| GREECE | 45 | 345 |
| HUNGARY | 10 | 51 |
| IRELAND | 26 | 269 |
| ITALY | 29 | 322 |
| NORWAY | 6 | 171 |
| PORTUGAL | 6 | 79 |
| SLOVAKIA | 12 | 109 |
| SPAIN | 83 | 1260 |
| SWEDEN | 2 | 11 |
| SWITZERLAND | 1 | 7 |
| UK | 5 | 62 |
| TOTAL | 242 | 2859 |